The author of the first book published by Authors' Publisher originally written in English, Ellen Marie Jensen, held thirteen book release events in the US. The tour included the states of Minnesota, Michigan (Upper Peninsula/Copper Country), Montana and Washington. She visited historical societies, cultural organizations, retailers, universities and festivals. "In every community I visited, I was met with good will and a deep and genuine interest in the book and in the Sámi culture. At some of the events, I fielded as many general questions about the Sámi culture and issues in Sápmi as I did about the subject of the book itself—Sámi immigrants and their descendents."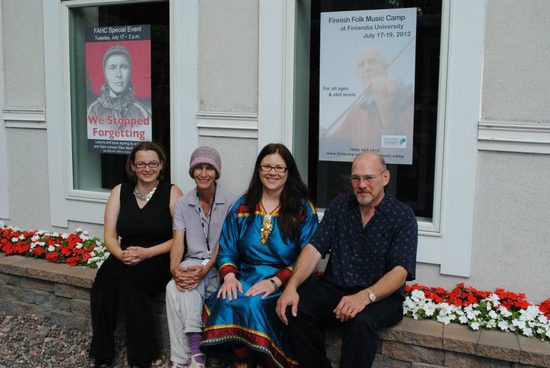 From left: Hilary Virtanen, Eileen Sundquist, Ellen Marie Jensen, and Jim Kurtti.Finnish American Heritage Center at Finnlandia University, Hancock, Michigan. Source: Finnish American Heritage Center, 2012.
The book is partially based on her master's degree in Indigenous Studies from the University of Tromsø and she returned to many of the communities she had visited when she did her research. Jensen was delighted that four of the storytellers from the book, as well as others who collaborated on the project, were present at several of the events and they spoke movingly to the audience.


| | |
| --- | --- |
| Eric Seaberg addressing the crowd at Siiddastallan 2012. Wyoming, Minnesota. Source: Ellen Marie Jensen, 2012. | |
"I wanted to bring something back to the communities where I did research, especially those communities with large populations of descendents of Sámi and other immigrants from Northern Scandinavia and Finland. I could not have completed the work without their willingness to share their knowledge and stories."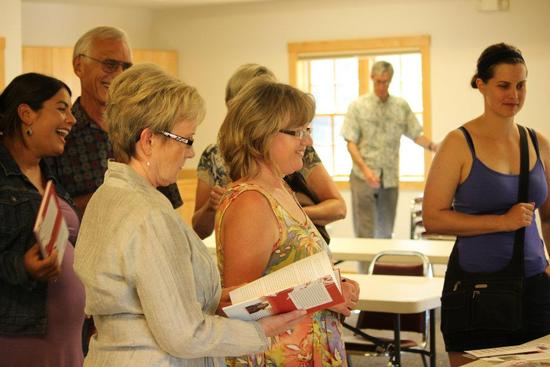 People socializing and lining up for signing at the Poulsbo-Kitsap Public Library, 2012. Photo: Julie Whitehorn, 2012.

Jensen describes the book tour as a success. "I promised I would sell as many books as I could fit in my luggage. It was a satisfying moment when I had to sell my own personal copy." She looks forward to some upcoming autumn events in Sápmi and to several winter events in North America, including at Pacific Lutheran University (Tacoma,Washington) and Portland State University in collaboration with the Scandinavian Heritage Foundation.

For news and upcoming events,please join the We Stopped Forgetting book page on Facebook.



Ođasmahttán 28.09.2012
Almmuhan: Mihkku Solbakk